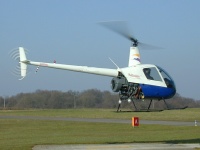 Helicopter Lessons
Introductions and Briefings
On arriving for your first trial lesson, you will be introduced to your instructor who will then explain to you, in reasonably simple terms, how a helicopter works and what each of the main controls do. He or she will also explain how you will be handed the controls and allowed to try them for yourself during the lesson. It is particularly important that you take notice of the safety aspects, but remember, your instructor has 'done this before', and will have flown with many novices and have a good understanding of both your concerns and your enthusiasm.
Getting Airborne
You will be escorted to the helicopter by your instructor. He or she may carry out some last minute checks on the aircraft, but if they don't, they will have done so earlier. It is important that you are comfortably strapped in. Your instructor will take you through the start up procedure, but you will not be expected to remember all the details. You will be asked to wear a headset that will enable you to speak with your instructor and also to listen to instructions and information given by Air Traffic Control.
Taking Control
Once you have taken off, your instructor will demonstrate some of the things discussed at the earlier briefing, and give you an opportunity to try the controls for yourself. He or she will ensure that it is safe to do so, and will usually start by allowing you to practice with one control at a time until you are more confident.

The length of time your first lesson lasts for will determine the distance you cover, and at some stage you will return to the airfield and land. Your instructor will 'shut down' the helicopter and walk you back to the briefing room.
Spectators
If you have friends or family that have come to watch and would like to take photographs, it is important that you tell your instructor so that he or she can explain the safest time to do so.

Generally you will be given a certificate to remind you of your day. You may also want to obtain information on learning to fly with an explanation of the commitment - both time and money - that are involved. Your instructor will be happy to answer your questions.