Learn to fly in your choice of craft: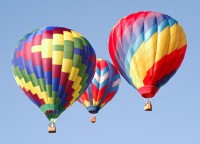 Hot Air Ballooning
The Craft
How balloons fly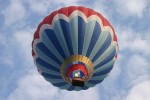 Although the pilot has control over the altitude of the balloon, changes in direction can only be made by locating an air mass moving in the required direction. Hence both the launch site and the landing site of a balloon experience can vary significantly from flight to flight.

Balloons are buoyant fabric envelopes of hot air or gas that are static in the air; all movement of the balloon is controlled by the direction of the air surrounding it. Buoyancy is provided by a gas less dense that air, typically helium, or by hot air, which has a lower density than the ambient environment. Passengers, together with the pilot, reside beneath the balloon in a wicker basket.
When to fly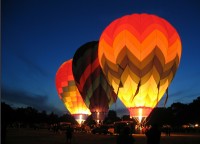 Ballooning is more sensitive to prevailing weather conditions that most other aviation activities, which means there can be quite a few re-schedulings of booked flights until the right conditions arise. The ideal conditions for ballooning are high pressure days with moderate temperatures and surface wind speeds of less than 8 mph. Once aloft, higher wind speeds are preferable, as these provide movement and steerage.

The main flying season stretches from March through October, and balloons usually fly within two or three hours of sunrise and sunset. This is when the winds are calmest and conditions most stable. In the middle of the day, thermals can develop which can be highly dangerous for the balloonist.